6th Annual Fundraiser "Laughter is the Best Medicine"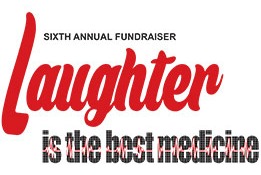 The 6th Annual Fundraiser Laughter is the Best Medicine: A Night Out with NATIVE HEALTH is an evening of comedy and community awards recognition. You'll enjoy a fun evening filled with comedy, music, delicious food, silent auction and socialization. During the evening NATIVE HEALTH will honor both a community partner and individual who have shown outstanding service to the urban American Indian community in Arizona. Get ready to make your BID, a silent auction kicks off the fundraiser, with items such as authentic American Indian jewelry, paintings, sculptures, carvings, clothing and other art forms. Local businesses, restaurants, attractions, and hotels/resorts also provide gift certificates, vouchers and other items. Put your laugh face on as you'll experience a comedy performance by Award-Winning Native American Comedian and Actor, Tatanka Means, who will bring smiles and laughter. Local musician, Fargo Arizona will showcase his music and Illusionist and Magician, Craig Davis will awe you with his sleight of hand tricks.

All proceeds from the event solely support the Emergency Assistance Program, a program that provides financial assistance for families living on rural reservations experiencing a medical emergency that requires medical treatment received in a Phoenix metropolitan hospital. The program is supported by employees of NATIVE HEALTH, community donations and Laughter is the Best Medicine Fundraiser.

Come Laugh with us as we raise support to provide hope to families who are away from their home during time of need. After all, Laughter is the Best Medicine!

Madison Center for the Arts
5601 North 16th Street
Phoenix, AZ 85016

Saturday, September 21st, 2019 at 4:00 pm
Lobby doors will open one hour prior to show time

Tickets are $55.
*Material may not be suitable for all ages, and may contain adult content or themes.

NATIVE HEALTH is a non-profit 501c3 organization that provides primary medical, dental, behavioral health, WIC and other ancillary services to the urban American Indian and other underserved populations in the surrounding Phoenix metropolitan area. The agency also provides social programs, including services directed to young parents and their children to assure childhood development, household safety and school readiness. NATIVE HEALTH strives to assure accessibility to vital health and wellness services and provides a uniquely comprehensive array of services. NATIVE HEALTH is dedicated to improving the health status of individuals, families and communities that experience disparities in health associated with issues of poverty and oppression.